Health Care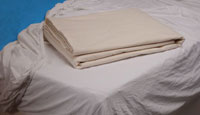 The health care industry is required to maintain the highest standards in their facilities. Patients are already facing a difficult time in their life, and Chung Chun is committed to providing health care supplies that make their stay more comfortable. We offer a wide range of products including linens, towels, staff and patient apparels. Cubicle and shower curtains, cubicle curtain tracks and hardware, blinds, drapery, and various beddings that seamlessly complete the look and style of an entire room. Our products stand up remarkably well to repeated use and washing without becoming uncomfortable or unsightly.
With over thirty years of industry experience, Chung Chun has a proven track record of providing quality, affordability, and personalized service. Our healthcare clients rely on our one-stop source for all their healthcare needs. We are dedicated to a "doing it right" attitude, so all our customer service representatives can help you select and order all the supplies you'll need to create an environment that is as consistent as it is comfortable.
Contact one of our customer service representatives today to find out how Chung Chun can help you meet all your healthcare needs.