Institutional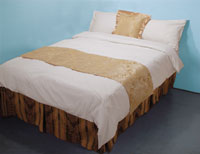 Universities, colleges, social housing, and government facilities can be elegantly and affordably decorated. We are committed to providing our customers with complete product solutions that are of the highest quality at competitive prices. Our products are durable and designed to maintain their quality even through repeated uses and washings. At Chung Chun we combine more than thirty years of industry experience with a dedication to providing superior service.
In order to meet the varying needs of our many customers, we maintain sufficient inventory levels. Whether you are looking for bedding, linens, towels, uniforms, or amenities, Chung Chun is your one-stop source for quality products at competitive prices. More importantly, we have experience with facilities large and small and have worked to supply large hotel chains and smaller institutions as well. Whatever your needs, we will work with you to deliver the products you need in a cost effective and timely manner.
If you have any questions about our products and services, contact our professional customer service department. They can help find solutions to your needs and can direct you to products that will best serve your facilities and clientele.
We aim to "do it right" and we always endeavour to provide a superior experience for our clients so that they can deliver outstanding service to theirs. We have built lasting relationships throughout our industry, but our true goal is to build a sound and relationship with you. Feel free to browse our impressive catalogue of products, and make sure to let us know if you have any special needs or requests.
Contact us today to find out how we our products can assist you and your establishment. Our customer service representatives are ready to discuss our full line of products and the pricing options available to you.