Towels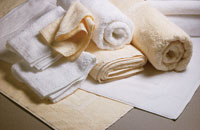 Hospitality, Healthcare, and Spa Towels

Quality towels for your hotel, hospital, care facility, physical therapy center, and care and beauty salon.
At Chung Chun we can offer you just about any type of towel product imaginable. Besides bath, hand & face towels; we have bath mats, pool towels, beach towels, etc. From full terry to dobby border design, from basic white to a wide range of colour options, from cotton to poly/cotton blend to bamboo, we have every option for our customers.
If you need a towel that you don't see offered in our catalogue, please contact us. We welcome custom orders and inquiries.
To learn more about how we can help your business contact us or download our catalogue